Nintendo lets you save on three Switch games. (Image source: Nintendo / Pixabay – OpenClipart-Vectors)
If you need new games for the Nintendo Switch, it's worth taking a look at the eShop right now. There you can currently dust off three games for less than eight euros. However, the offer is only valid for a short time.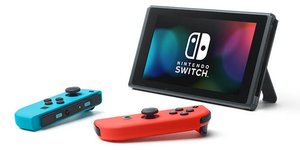 Nintendo Switch: Game bundle reduced by 85 percent
There are currently three switch games from publisher Digerati on offer in the Nintendo eShop. For 7.79 euros you get the bundle from the games Slain: Back From Hell, Snakebus and Sunless Sea: Zubmariner Edition. Corresponding a discount of a whopping 85 percent. At full price, the games would cost you more than 50 euros. You can see what's on offer in the Nintendo eShop for yourself here. You have until September 7th to strike.
With the bundle you get three games that could hardly be more different. In which Arcade fighting game Slain: Back From Hell battle your way through six gothic realms in heavy metal-inspired pixel optio. The focus here is on a sophisticated melee and magic system. In the eShop, the game advertises that there is no leveling or crafting here. It's all about fighting.
Also new on the Nintendo Switch. Check out the trailer for Cult of the Lamp here:
Cult of the Lamb: Gameplay Trailer for the Switch
Great Switch deal for three indie games
Snake Bus then delivers even more arcade action. As the name suggests, this is the Classic Snake, but you drive a bus. As you pick up passengers, the bus will get longer and longer until it winds its way through the whole city. Your task is to drive as long as possible. If you get stuck, it's game over and you have to start over.
Finally, Sunless Sea: Zumbmariner Editions is an RPG in which you command a ship on the high seas. It applies to defend your own boat against sea beasts while keeping the crew happy and safe from insanity. Especially indie and arcade fans really can't go wrong with what's on offer in the Nintendo eShop.