Westerns are no longer a popular genre in cinemas. Possibly because the clichés of good and bad in the Wild West meet on little fertile ground for deep conflicts. Exceptions prove the rule. But for video games there is hardly a better age. Where else could the law of the strongest be so easily converted into a video game concept, without a moral sword of Damocles? The setting is even ideal for strategy battles à la X-COM like in Hard West 2.
What, did I omit something? Sapperlot! Alright, some demons appear in Hard West 2 too. The devil himself leads a ghost train through the desert, which is carried away like a centipede by countless little legs. Still, I wouldn't call it a horror crossover. At most from a western with ghost stories. The tale of Beelzebub, who wants to rip the souls out of Gin Carter and his gang of tough thugs with a loaded poker hand, is the start and end point for the plot, but without a touch of the supernatural, which is mainly reflected in the abilities of the heroes reflected, it is about typical Wild West themes. Tough men, railroads, forts, small towns and bandits dwelling in the wilderness. Exactly what usually serves as a setting in a Western or is shot overboard.
In a game that takes X-COM as a model and largely emulates established rules, there is of course a lot of lead flying around. You direct four warhorses with edgy personalities and unique special skills in rounds over a limited battlefield full of opponents, with the aim of blowing out their light with revolvers, shotguns and melee attacks. Both the tactical position and the number of remaining actions per turn determine who emerges victorious from a battle in the long run. Seen in a cropped bird's-eye view, a grid shows where characters can stand, where cover is granted, and what ranges they can max out with their weapons.
Everything as usual in this genre, albeit presented in an entertaining way, which is already reflected in the cast. Each of the initially four main characters represents a distinctive personality, which, thanks to multiple-choice conversations between battles, continues to gain in profile. You start with these, but other playable heroes will join you over the course of the three acts. Leader Gin is the fearless, charismatic leader, while Indianer Laughing Deer is the mad psychopath who laughs in the face of death. Old Man Bill is considered an old cynic – and he is old in the truest sense, because he is actually dead. In search of eternal rest for his involuntarily resurrected body, the revenge campaign against the devil comes at just the right time for him. Flynn is tough and cheeky, but as a witch she also has her softer side.
XCOM meets cowboys – gambling session on Hard West 2
Hard West 2 is the latest in the tactical genre. XCOM battles in the Wild West, doesn't that sound so bad, doesn't it? Felix plays a complete mission for you and tells you what makes Hard West 2 so special.
Not spectacular, but useful. This verdict applies to pretty much all areas of the game. I'd be lying to say I'm surprised or even overwhelmed by any aspect of the technology. There's no denying a general paint job that's almost typical of the Unity engine, but overall I found the graphical guise to be nice to look at. Rich colors that give contrast to the surroundings, a drawing style that, despite borrowing from horror, does not get by excessively exaggerated, easily recognizable indicators – what more could you want. I give the creators at Ice Code Games a lot of credit for the fact that even cutscenes on my 21-to-9 screen are displayed without unsightly vertical bars (or even stretched image ratios).
Bravo Bravado
The only question left is whether Hard West 2 can stand out from other tactical shooters, and if so, how? Is it standard fare in a fresh setting? No, not at all, because through the encounter with the devil called Mammon, the scoundrel team has mastered supernatural abilities. For example, swapping places through teleportation, or the ability to shoot through objects as if they didn't exist.
On top of that, there are three primary traits that all heroes can use. The first is an optional luck factor, the second a bullet ricochet function (i.e. a targeted ricochet) and the third the so-called bravado, which could be described as a kind of "good run". This trio of game elements gives everything a spaghetti western touch, as it guarantees fast aiming and endless salvos of hits and, last but not least, has a proper influence on the tactical setup.
I'll start with the simplest – the ricochet. Instead of constantly chasing after well-guarded opponents, there is the possibility of letting shots ricochet off hard metal objects so that they are deflected. This way you literally shoot around the corner. Dubbed Trick Shot, this skill is theoretically available on any turn. Quite the opposite of the luck factor, which can be used to a limited extent (otherwise the tactical skirmishes would be pointless). More luck increases the chance of executing even difficult shots with pinpoint accuracy or escaping supposedly inevitable enemy projectiles at the last moment. A bonus earned according to Karma philosophy. The more unlucky a character has, for example by taking enemy hits, the more luck points it collects for karma compensation.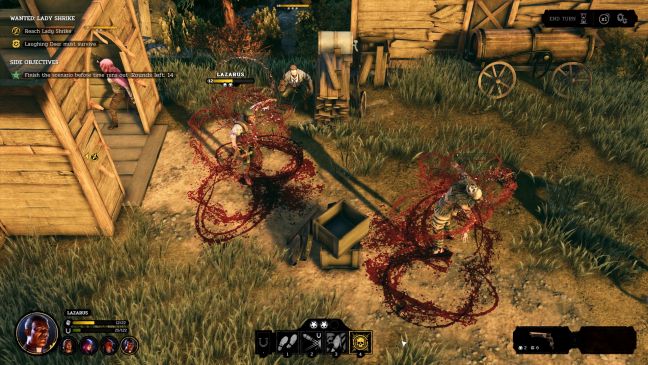 Last but not least, there is the Bravado feature, which activates after knocking down an enemy. It allows you to execute any number of additional moves, as long as you manage to immediately blow any further targeted enemy into nirvana with the subsequent bonus shots. Chain combo might be a game-appropriate term for this flow, reminiscent of legendary celluloid gunslingers. Every shot a hit.
Ricochet you into my heart
It all sounds pretty promising, doesn't it? Well, I did have fun trawling through the main and side quests that I was allowed to unearth in the limited area of ​​a freely exploreable map. Not infrequently, decisions were made during the search that influenced the course of the game. Do I mark the heartless with gin, or do I meddle in the fate of strangers and risk life and limb in the process? Not just a question of storytelling, but also one of the character points granted, which are used to expand attributes.
Still, I have to admit that I was annoyed by some of the game's negligence. Especially when it comes to the AI ​​and the structure of certain battles. Not only because artificial intelligence is sometimes simple-minded, but also because the programmers consciously adopted this characteristic in the mission design.
According to the three selectable difficulty levels, enemy gunslingers are sometimes more or less skillful, but generally tend to get too close to my squad without fighting back appropriately. In some skirmishes, they serve themselves on a silver platter. If not frontally, then in a way that you can turn them off with a ricochet. Luxury problems, one might think, if this lapse were not compensated for by sheer mass. Sometimes enemies that come out of nowhere just pile up to prolong the battle.
I could live with that, too, if it didn't result in one or the other dilemma where I senselessly maneuver my heroes into a dead end. The more difficult the battle as the game progressed, the more often I had the feeling that I was making fewer tactical decisions than breaking down a given solution chain that I had no insight into at the start of the battle. Especially in those skirmishes where a fixed number of maximum moves is given, a few warning signs would have been more welcome than a clumsy surprise with facts that you can only prepare for when the battle is repeated. For example, by redistributing weapons so that those heroes who are under more siege can rely on multi-hit shotguns with better spread. These are preparations of great importance that loading an in-battle save can rarely compensate for.
On top of that, I found the poker card system, which I used to enhance my heroes' skills, to be unnecessarily playful. Forming strong poker hands using earned cards may sound fun, but when you're trying to switch skills for tactical reasons, it becomes a little tedious to handle.