ingame
guides
Van Gogh, politicians or denim sins: DALL-E and Imagen are capable of everything. © Unsplash/DALL-E
An exact description and DALL-E generates us deceptively real pictures. We'll tell you exactly what artificial intelligence for image generation is and how it works.
San Francisco – Using artificial intelligence to advance technology and creativity, the developers of the AI ​​Image Generator DALL-E have taken this to heart. Many are familiar with the chat AI ChatGTP from the company OpenAI, but the image generation software is also a product of the San Francisco-based company. The process of the program is simple: You enter text descriptions, from which an image is interpreted by the AI. Thus, the wildest creations can arise from images that nobody had thought of before.
| | |
| --- | --- |
| Publication date | 05.01.2021 |
| Original Author | OpenAI |
| software upgrade | DALL-E 2 |
DALL-E: When technology and art collide, the craziest pictures are created
Anyone can give simple instructions, thanks to DALL-E anyone can now become an artist. Because today, thanks to artificial intelligence, anyone can create art with simple instructions. The artworks, combined with the craziest ideas that are difficult or impossible for humans to create manually, make everyone look like a great artist. This not only expands creativity, but also speeds up work processes. But is that art or rather intelligence?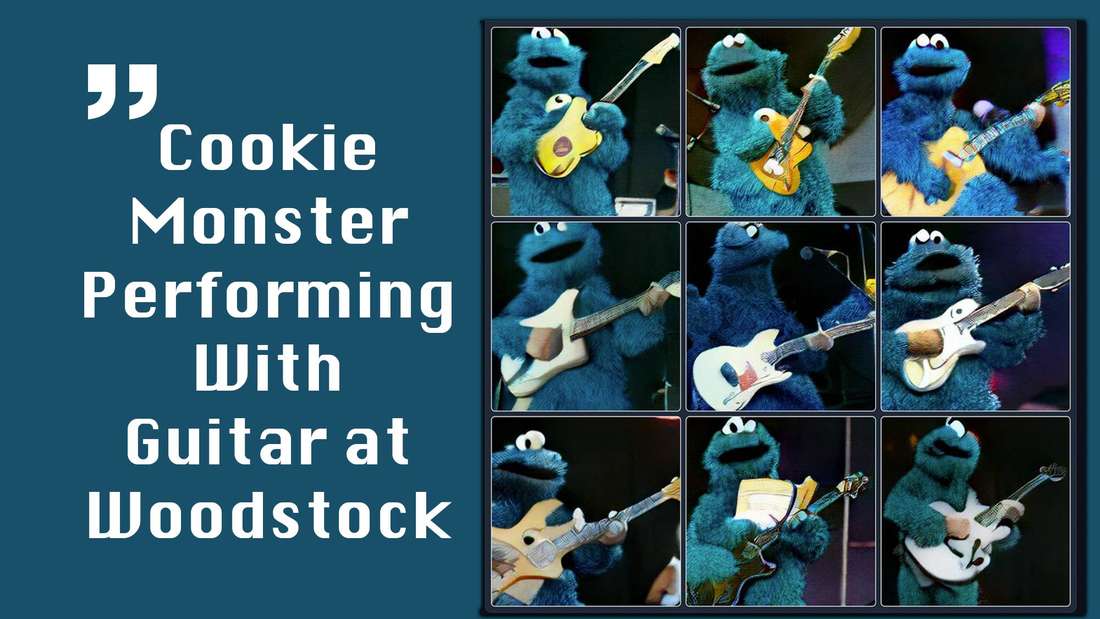 DALL-E Mini brings the Cookie Monster to Woodstock © DALL-E
The name DALL-E consists of two entities: the small animated robot Wall-E from the Disney film Wall-E and the Spanish surrealist Salvador Dalí. More than 3 million people are already using DALL-E, over 4 million images are generated every day.
DALL-E 2 can combine multiple objects and implement image styles
The successor DALL-E 2 is a better variant of the AI ​​Image Generator, with even better quality images and results.
DALL-E 2 is a new AI system that can create realistic images and artworks from natural language descriptions.
DALL-E 2 uses a process called "diffusion". This means that the artificial intelligence starts with a pattern of random dots. This pattern is slowly modified toward an image as it recognizes certain aspects of the image. The upgrade of the AI ​​Image Generator from OpenAI is still available as a beta version (status: 01.2023). The following aspects are still being researched:
Prevention of Harmful Generations: Production of violent, hateful or adult images and faces of real people, including public figures, are restricted
Protection against abuse: Violent, adult or political content is prohibited by automatic and human monitoring systems
Phased Deployment: available as a beta version since July 2022
The new generation of AI also processes existing images. This processing is also started by a text description. With the new version, objects can be removed and added. The image can also be sharpened and edited with shadows, reflections and textures. From these aspects, the image not only appears more realistic and accurate, but also in four times the resolution.
This is what Wikipedia says about DALL-E
DALL-E and the update DALL-E 2 are computer programs developed by OpenAI. Images are created from text descriptions. As a result, completely new concepts are created by the artificial intelligence and high-quality and realistic images are created in different artistic styles.
In terms of captions and photorealism, DALL-E 2 is preferred over DALL-E 1. The evaluators were asked to compare 1,000 image generations from each model. Overall, 71.7% of raters prefer DALL-E 2 for captions and 88.8% for photorealism.
DALL-E 2 can create original, realistic images and graphics from a text description. It can combine concepts, attributes and styles.
Whether that belongs in the category of art or rather in the category of intelligence is not important. Because this AI helps us all. And that's what counts. AI can help us turn our creativity and imagination into reality. There are no limits to our imagination and with the simple process and realistic end result, DALL-E puts a smile on our faces. There is a bit of Picasso and talent in each of us, because artificial intelligence enables us to create our own original pictures without much effort and without any talent for painting.