Anyone who has subscribed to the good old Essential version of PlayStation Plus can now finally pick up the September games. We'll tell you whether they're worth it and have the download links for you.
PS Plus: These are the new free games in August
The new free games for PS Plus Essential subscribers are finally online! And they couldn't be more different! If there isn't something for each of you, I don't know what is.
As always, you can save the 3 games in your game library for the whole month free of charge. Once secured, you can download and play the games immediately or later as you wish – at least as long as you have subscribed to Sony's online service. Here is an overview of the September games on PS Plus Essential.
PS Plus games for September in detail
Need for Speed ​​Heat (PS4)
Need for Speed ​​Heat Official Announcement Trailer
The arcade racing game series Need for Speed ​​hardly needs an introduction. Even if this has not always shone with goodness in recent years, the 2019 part is Need for Speed ​​Heat by developer Ghost Games and publisher EA is solid. In the open-world Miami, sorry, Palm City, you must win races in overhauled cars at insane speeds in order to increase your reputation in the underground racing scene.
Day (legal) and night races (illegal) play quite differently, promising variety and adrenaline-charged chases with the pole duck. Nothing new, but the usual formula well implemented. Metacritic aggregates an average rating of 72%.
Need for Speed ​​Heat on PlayStation Store
TOEM (PS5)
TOEM – Announcement Trailer | PS5
It gets more experimental with the second title on offer: TOEM, which is unfortunately only available for the PS5, lets players travel through a hand-drawn black and white comic world and … shoot photos. Of course there are also a few puzzles.
Testers praise the game's chilled mood, and a bit of mental relaxation can't hurt these days. TOEM is definitely worth a try for indie fans, and the game has a respectable average rating of 80% on Metacritic.
TOEM on PlayStation Store
Granblue Fantasy: Versus (PS4)
Granblue Fantasy: Versus Launch Trailer | PS4
Granblue Fantasy: Versus is a fighting game with anime characters. The game thus has a target group that is both under 20 and over 40 years old.
Jokes aside: The Beat'em'Up is based on an enormously popular JRPG, anime fans praise the excellent style and brawler fans praise the unusual combo system, which is beginner-friendly and more reminiscent of Smash Bros. than Street Fighter. Granblue Fantasy: Versus rakes in a robust 78% meta score with this recipe.
Granblue Fantasy: Versus on PlayStation Store
There's also a free cosmetic DLC
Important to know
PS Plus Essential is the new name for the "classic" PS Plus tier, which enables online multiplayer and lets subscribers (usually) save three games for PS4 and PS5 every month.
The PS4 games almost always run on the PS5. The essential subscription still costs 60 euros a year, you can subscribe directly in the PS store or with credit cards, for example at Amazon.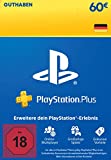 Credit for PS Plus Essential: 12 months download code – German subscription
The price may be higher now. Price from 06/09/2022 12:50 p.m
If you want access to more games, you can use the more expensive subscription levels. Information about the new and more expensive PS+ premium tiers can be found here:
Don't want to miss any more news about technology, games and pop culture? No current tests and guides? Then follow us on Facebook or Twitter.